Scholars Conference Perspectives
Scholars Conference Perspectives
Attending conferences as a McNair Scholar is one of the most valuable aspects of the program.  Here you can hear first hand accounts of scholars experience of traveling to, observing and presenting at and enjoying research conferences across the country.

Twenty-Fourth Annual Ronald E. McNair Commemorative Celebration and Ninth National Symposium
North Carolina A&T
January 27th-29th 2010

The Twenty-Fourth Annual Ronald E. McNair Commemorative Celebration and Ninth National Symposium wan an educational and inspirational event. North Carolina A & T State University has a clean campus with new classrooms and dorms. The faculty, staff, and students are very professional and courteous. The most memorable part of the conference was the McNair Luncheon because of the motivating speech given by Mrs. Cheryl McNair.
Mrs. Cheryl McNair spoke of her late husband Dr. Ronald E. McNairs life. The major theme of his story is that there are ways to complete your goals in spite of the challenges that arise in life. I believe that if Dr. Ronald E. McNair could achieve so much in his short life, that there is no limit to the things I can accomplish. I am honored to be a McNair Scholar.

Cassandra Loacano
McNair Scholar

My experience at the Research Symposium in honor of Dr. Ronald E. McNair was a great one. It was refreshing to be in the presence of so many young African Americans achieving their goals in higher education. Just by observing the students, I could tell that most of them took getting an education seriously. The campus at North Carolina A&T was immaculate. The campus buildings were up to date and extremely clean. Even the restrooms were clean. I came to the conclusion that the staff and also the students must take a great amount of pride in their campus.
We had an opportunity to watch a documentary which portrayed Dr. Ronald McNair and his achievements. It described how driven and passionate he was about everything he did. He started out with what most of us would consider nothing, and achieved a great deal in a short amount of time. This reminded me of just how short life is for some. After watching the documentary I feel I have a duty to achieve my goals to the best of my ability.
There was a panel discussion that was held featuring previous North Carolina A&T students that are now in graduate programs. I was impressed by the way they spoke and also their confidence. They appeared to be very mature and focused on their goals for the future. The students were able to share their experiences as graduate students. They shared helpful information in regards to choosing a program and how to get funding for graduate school.
I also had the pleasure of spending time with my fellow McNair Scholars from Wayne State. We shared nice conversations, great dinners and a few laughs. I am also very grateful that Dr. Baynesan took the time to share this opportunity with us.
To describe how I felt after this experience in one word: Enlightened. 

Karyn Rogers
McNair Scholar
As a veteran McNair Scholar I am greatly appreciative for all the opportunities that have been made available to me as a student. For me, this program is more than a place to meet each Friday for informative sessions, it is more than a place where you seek GRE prep classes or request letters of recommendation, it is more than a place where you learn to understand how to communicate with graduate schools or seek mentorship from advisers; this program for me has become family. A family is a place that doesn't throw you away when you make slow or bad decisions, but seeks to help you recover and get on the right path. Within a family consist members who support your dreams and help you achieve them. Most importantly, they not only provide you with things you need for survival but teach you how to obtain those things for yourself. Through the process of maturing and growing as an adult, college student, and also a scholar I realize just how important this family relationship means.
This previous trip literally iced the cake! Out of all the research conferences I have attended with the program, this is the one that was most influential in my life. This research symposium was at a historically black college; the college in which Dr. McNair attended. This was my first time visiting a historically black college. The campus was really a site to see! There were so many subliminal message that were encouraging to me as an African American student. Everything from seeing a well kept campus, to observing that all the previous provost and presidents were Blacks, only re-affirmed my passion and drive for success.
In addition, the research symposium itself was a huge success. Both Yusuf and I received an award for outstanding oral presentations. McNair conferences are very supportive in that, students are encouraged to present original research ideas. This component alone is great preparation for graduate education. This is another key reason graduate schools are attracted to McNair scholars.
I have truly matured as a scholar. It takes a while to understand all the benefits of being a part of this family. It is my dream to one day give back to a group of students with backgrounds similar to mine.

Thank you McNair for this awesome opportunity, it was truly life changing!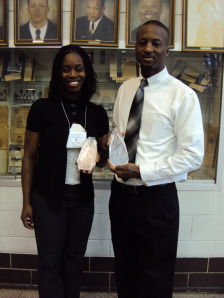 Terainer L. Brown
McNair Scholar                                                                                               
 

North Carolina A&T State University is one of the best research conferences that I have attended. Upon our group's arrival in Asheville, we got the chance to do some site seeing, visit some great restaurants, and attend a Class-A university environment.
The state of North Carolina has a mountainous region in the western portion of the state which includes Asheville. So we drove to Blue Ridge Parkway in route to higher elevations to experience the Blue Mountains. As we traveled higher through narrow winding roads, we were able to take pictures of the landscape and collect blue rocks from the mountain as souvenirs.
By nightfall we made it to Greensboro to check in to our hotel in preparation for tomorrow's events. Next to our hotel was a fine Italian restaurant where we had eaten on the first night. But Greensboro had many other fine restaurants that we were able to experience such as Bistro 1896 (named in part after the year of the building's construction) and Natty Green's which we found downtown. The restaurants were equally great, but I liked the Habachi dining of Sopporo's Japanese Steakhouse the best. There seemed to be so much to do and experience downtown that I think we would have needed many more nights.
But North Carolina Agriculture and Technical State University (N.C. A&T) left a grand impression upon me from the layout of its campus and learning environment to the interactions of the students and staff. Despite that, my goal was to keep my focus for Friday's presentation where McNair Scholars would be presenting research from nearly a dozen colleges and universities. Terainar and I had given very good presentations with the support our Director and 3 other McNair scholars. At a ceremony in honor of Dr. Ronald E. McNair, his wife Cheryl was the keynote speaker and she shared a heart-moving story of his life and achievements from a student at N.C. A&T State to MIT, scientist and astronaut at NASA, and family man. The entire program was solid especially from the knowledge and wisdom gained of the 5-member graduate student panel. There is just so much more to be said about what made this trip to N.C. A&T that made it so rewarding. And even though the final ceremony had to end early due to the arrival of a major snow storm, two of Wayne State's finest (Terainar & I) were presented with Most Outstanding Oral Presentation Awards!

Yusuf Anderson
McNair Scholar